4 minutes reading time
(819 words)
The Taste of Summer - Belize Island Style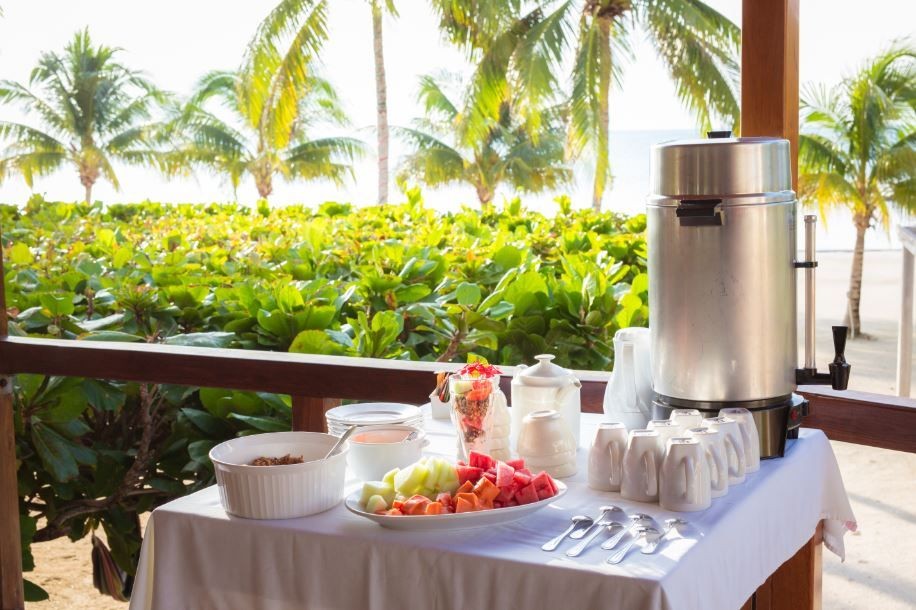 Belize tantalizes all of your senses, from sights and sounds to taste. The blend of culture, Caribbean, and cuisine is colorful, crafted, and just plain crave-able! While you plan your trip to St. George's Caye Resort, sink into this blog and visualize yourself on the island!
Good morning! The temperature is about 76 degrees Fahrenheit and tropically perfect. You have awakened to the sea breeze coming through your window; you open your cabana or villa door to find that our friendly staff has delivered fresh coffee, tea, and juice to your door. As you stretch, take a look at the sun, sea, and white coral sands, you sip your coffee and dream of the adventures and relaxation of your day.
On your own time and terms, when you're ready for breakfast, head over to the Sand Bar Lounge. There, you will find a sweet assortment of granola, tropical fruit, and yogurt to indulge in. Next up, breakfast made to order. Your menu includes a variety of the tastes of Belize as well as your homestyle favorites, all served with dietary needs in mind.
A must-try is our Belizean specialty, fry jacks which are often served with cheese, refried beans, eggs, and other colorful, flavorful ingredients.
Once you have had your massage, found your way to the sandbar while sailing, or take an excursion off the island to one of the many adventures Belize has to offer, it is time for your midday meal. Lunch may include fresh slaw, soups, authentic Belizean rice and beans, stewed chicken, or tamales.
As your day winds down and you have soaked up as much sun as possible, join us for your four-course gourmet meal. Chefs choice usually includes conch, fish, or other seafood, a variety of meats, sauces, and veggies. Not in the mood for meat? Choose from our vegetarian, vegan, gluten-free, and other diet-sensitive options. Pair your fare with a refreshing traditional or virgin daiquiri, ice-cold Belikin Beer, or tropical mixed drink and you have the makings for complete satisfaction!
Belize is a melting pot when it comes to cuisine, and with so many delicious dishes to choose from your taste buds will be on cloud nine. Read on to learn about the five foods we think everyone should try when visiting Belize and prepare your palate at home!
Fry Jack
Fry jacks are one of the most popular foods in Belize. They are small triangles of dough that are fried until golden brown and served warm. Normally eaten for breakfast and served alongside refried beans, sausage, eggs, etc.. A drizzle of honey on top turns a savory fry jack into a decadent delight!
Click here for an awesome recipe for Fry Jacks

Rice and Beans
Rice and beans is the Belizean national dish composed of a base of red kidney beans and rice and cooked in coconut milk. Typically served with stewed chicken, but any meat will do! It is traditionally served with a Belizean style potato salad.
Stew Chicken or Pork

Belizean comfort food at its finest! Chicken or pork is rubbed in Red Recardo or achiote paste and slow-cooked in broth. Served over rice and beans for lunch or dinner. This dish will leave you feeling full and happy! Click here for a recipe!
Tamales (Bollo)
Belizeans put their own twist on the traditional Mexican tamale by wrapping them with plantain leaves instead of corn husks. Seasoned meat (chicken or pork) is wrapped in a soft corn dough and then steamed in plantain leaves. They can also be vegetarian by substituting the meat with vegetables. Want to make your own at home? Follow the recipe HERE.
Conch Fritters
Fresh sea food is abundant in Belize, and a crowd favorite is conch. Conch fritters are a popular appetizer, and are made from a batter of Conch, sweet peppers, onions, celery, flour, and seasonings and then deep fried to perfection! Yum!
Whether breakfast, lunch or dinner is your favorite, you will be sure to find a new and robust palate of flavors to excite the senses. We welcome you to our table. Be our guest!
Stay Informed
When you subscribe to the blog, we will send you an e-mail when there are new updates on the site so you wouldn't miss them.