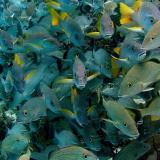 You're dreaming about a tropical vacation and you soon find yourself spending hours searching the internet for the perfect little room on the beach. As you explore exotic destinations near and far (Bali! Belize! Hawaii!), drooling over the tropical rooms, some of them over the water, you will no doubt come across a wide array of descriptions, features, and amenities. You will notice that rooms may be called bungalows, cabanas, casitas, huts, etc. – with descriptions such as "private thatch cabana," "thatch casita," "romantic beach bungalow," "over water casita," "overwater bungalow," "private cabana over the water," "rustic beachfront cabana," and more.
If you are like us, you start wondering, "What is the difference between a cabana and a bungalow? Why all these different terms?" I just want a quiet, peaceful, relaxing setting on the beach, with a clean room by the water where I can sip my drink, get five-star service, and enjoy some SCUBA diving and snorkeling...
CABANA vs. BUNGALOW vs. CASITA
Of course you can go to your dictionary, or ask Siri – and you'll get the basic definition for "bungalow" and "cabana" and "casita." But the fact is there is no one definition for these rooms and no one enforcing rules on what resorts call their rooms! Even identically appointed rooms at two different resorts can be called a cabana by one place, and called bungalow by another.
But the good news is: you don't need to worry about it!
It's not what the room is called that matters, but whether the features and the amenities fit what you want:
Do you want to stay in a regular hotel room, or something exotic and different?
Do you need air conditioning? TV? Room service? What other amenities are important?
Do you want to be on the beach, or are you looking for the "over the water" experience?
Do you want to be on a private island, or in a touristy area with beach bars?
As you explore your options (here is a great site: http://www.overwaterbungalows.net), look at the pictures, read room descriptions thoroughly, and it can even a good idea to contact the resort and ask them to confirm that the pictures on their website are current and accurately portray the condition of the rooms now, especially if you will be visiting a remote location that is less regulated.