4 minutes reading time
(805 words)
Wedding - Honeymoon - Both are Best in Belize!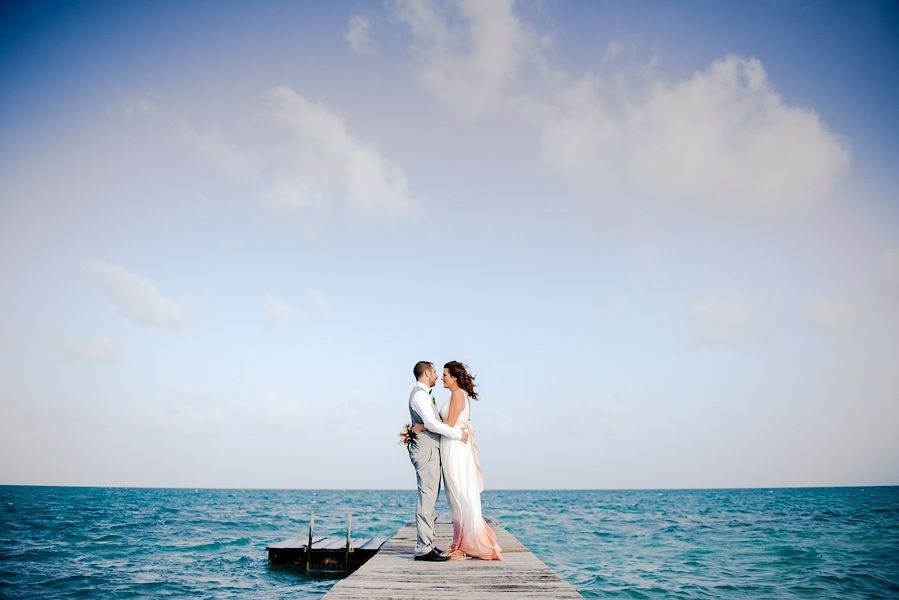 Tis' the season for engagements. During the month of December, your Instagram feed might as well be the engagement announcement section of the newspaper. But it's not just your feed: The torrent of holiday-time proposals is a real phenomenon. According to The Wedding Report's Complete Wedding Market Report for the United States, 15.5 percent of all engagements take place within the final month of the year (for context, no other month surpasses nine percent!). Let's break that down: On average, 1,825,743 couples become engaged each year, which means 282,900 of those proposals happen in December. If you are one of the almost 300,000 people saying "YES" this Holiday Season, congratulations and cheers to the next steps in saying "I Do"!
After popping the question, there are so many exciting decisions to make in the wedding planning process. One of the very first (and important!) decisions to make is to choose whether your wedding will be held locally or as a destination wedding. These days, it is getting more complicated to host your wedding at local venues; with rising prices, lack of lodging, and other implications, local wedding venues are starting to take a slight backseat to destination weddings. Many couples also opt to have their ceremonies at a destination, then remain at the destination for their honeymoon. St. George's Caye Resort offers the opportunity to get away from it all with your loved ones and even the possibility of renting the entire resort with a minimum guest count.
So, what's so great about destination weddings? Read on for seven reasons why we think they are the best!
1. Does it get any better than extending the celebration over a few days? On average, guests will stay three or more days at the wedding location. Couples will have plenty of opportunities to celebrate with their guests over multiple days and can host pre and post-wedding activities such as dinners together, lounging by the pool, spa treatments, and excursions such as fishing or zip lining!
2. The guest list for destination weddings tends to be smaller and more intimate, with an average guest count of 38. Your guests will be your closest family and friends, and you'll get quality time with each one of them- especially when everyone is staying at the same resort.
3. When you plan a destination wedding, you can leave the details to the on-site experts. Most resorts will have a planner assigned to arrange all of the needed paperwork, officiant, and other important details of your day. This makes planning a breeze!
4. Travel to a new place! Is an overwater bungalow on your bucket list? Have you always wanted to dip your toes in the ocean? Experience the culture of another country or an area of your own country? You can literally choose any destination your heart desires and spend as much time as you'd like exploring before and after your celebration!
5. Stay for your honeymoon! A destination wedding basically doubles as a wedding and a vacation. Once your guests have gone home, it's easy to continue your honeymoon at the same location! Bonus- you could split your time and jet off to another location and experience two different honeymoon locations!
6. Your photos will be incredible! One of the reasons couples choose a destination wedding is for a gorgeous location. Whether that's a tropical beach or in the middle of the mountains, you're pretty much guaranteed an amazing backdrop for your wedding!
7. Save money with a destination wedding. According to The Knot, the national average cost of a wedding in 2018 was $33,931. All weddings are unique so that costs can vary greatly from person to person, but smaller, more intimate destination weddings tend to cost less than a traditional celebration.
St. George's Caye Resort is located 7 miles by boat transfer from the Belize City marina.
We are taking reservations year round, with our worry-free travel policies. We are filling fast so book soon!
We look forward to seeing you in the sun!
Questions? Contact us today +1- 507.380.9344 or Toll Free 1-800-813-8498
Email our friendly reservations specialist at This email address is being protected from spambots. You need JavaScript enabled to view it.
Or Click Here to Reserve Online
What will you check off of your bucket list during your trip to St. George's Caye Resort?
Stay Informed
When you subscribe to the blog, we will send you an e-mail when there are new updates on the site so you wouldn't miss them.