7 minutes reading time
(1439 words)
Top 6 Belize Activities for Adventure Seekers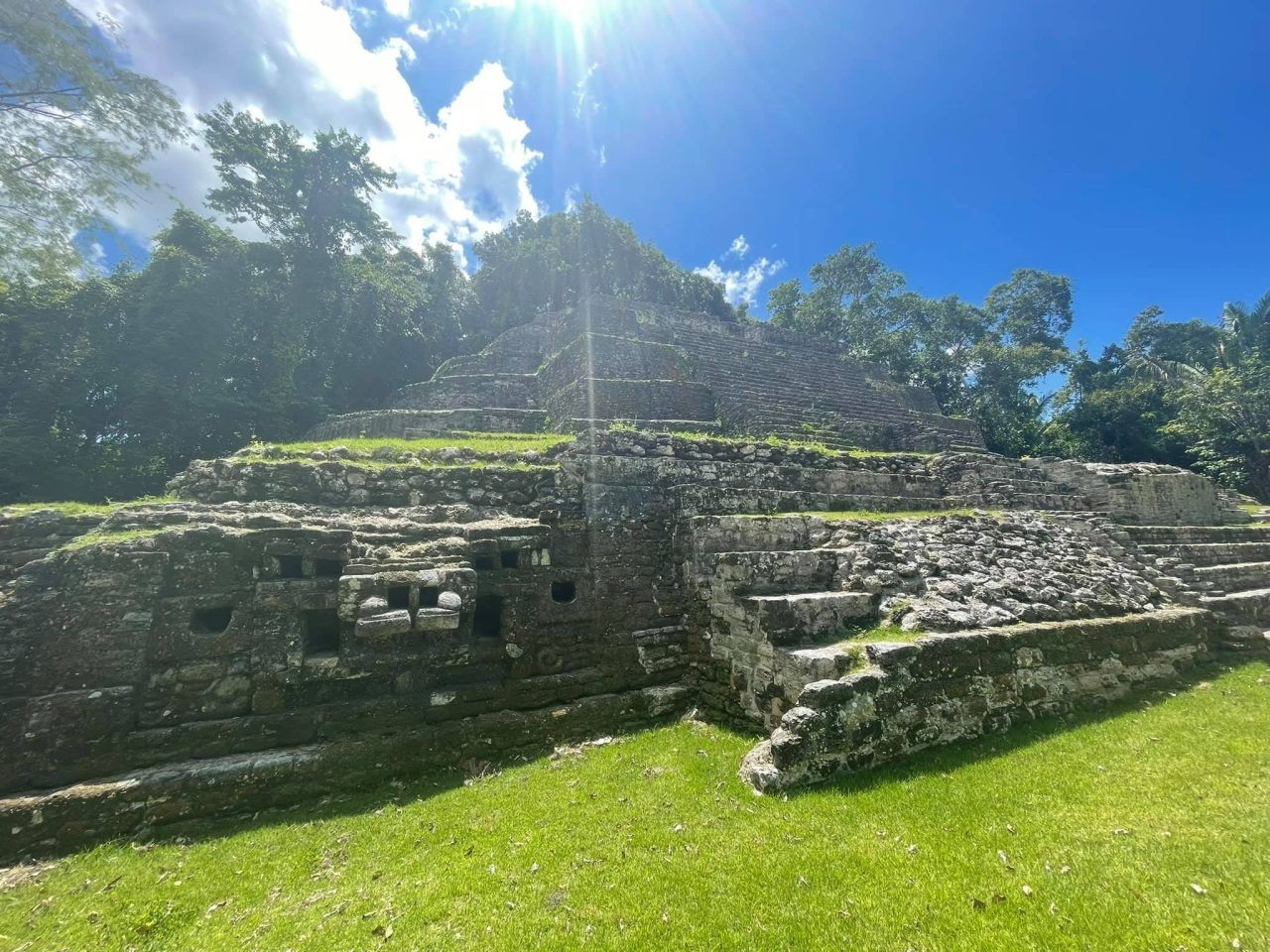 When you think of Central America, you may think of lazy white beaches, crystal blue waters, and drinks with tiny umbrellas. You got that all right, but what lay in store for the adventurer is far greater. Here are the top six ways to "Adventure" with St. George's Caye Resort in Belize

Cave Tubing & Jungle Zip Lining
An adventurous combination of hiking and cave tubing within a cave system, this is a fun activity! Float on inner tubes with only your headlamp to guide the way as the Caves Branch River winds a path through the Maya Mountain and numerous caves.

Secured by a harness with feet dangling free, zip line riders will traverse from 75 ft high platforms whizzing past a stunning display of tropical flora and fauna. Daring participants will rappel to the rainforest floor from the final platform for a thrilling one-of-a-kind jungle adventure.
St. Herman's Cave & Blue Hole National Park
This is your best opportunity to get up close and personal with the Belize jungle environment and hike nature trails with breathtaking views. The Park is a source of wonder with numerous underground streams, sinkholes, and extensive cave systems, and is ideal for birding with over 200 species of birds. Three of the five species of wild cats found in Belize - jaguar, ocelot, and jaguarondi - have been sighted in the park.

A guided exploration into the cave system takes you through huge caverns that are adorned with crystalline formations. Take a walk down the footpath and staircase of the Maya shaman and priest as they journeyed into the underworld where they used the chambers deep within the cave for their ceremonies. See Maya artifacts such as pottery, beads, obsidian knives, and human skeletons calcified in the limestone floor that date back 2000 years. Then, complete your adventure with a refreshing swim in the sapphire water of the Blue Hole National Park.
Lamanai Maya Ruins
The name "Lamanai" comes from the word "submerged crocodile" in the Mayan language. This site, situated along the New River Lagoon, features monumental architecture of temples and palaces dating from the Classic and Pre-Classic Periods. Pollen evidence dates the earliest occupation at the site to be about 1500 B.C. The earliest pottery has been dated to about 500 B.C.

But getting there and back is half the fun. See more of the land of Belize on your way to the river, and then enjoy an enchanting jungle boat ride complete with native wildlife!
Belize Cultural Adventure
Prepare to discover Belize. This unique unscripted tour is customized for you and your fellow travelers by our seasoned professional guide "on the fly." He will get to know you and what you are interested in and plan your day accordingly. The many attractions that may be included
Old Belize Museum features Belize's rainforest, Mayan history, cave systems, timber and chicle industries
Tour of Old Belize – see the history of the former British Colony
Luba Garifuna museum features one of the most cultural groups in Belize
Belize city museum that features Belize's history from the early inhabitants to its present day
Island Excursion - San Pedro Slam
Travel by boat across the turquoise waters of the Caribbean Sea, going past nearby Caye Chapel and Caye Caulker, to San Pedro on Ambergris Caye. Spend the morning on a guided snorkeling and/or diving adventure at two popular sites, Hol Chan Marine Reserve and Shark Ray Alley. (For guests who do not want to snorkel or dive, you have the full day to explore Ambergris Caye.) Then we venture back to San Pedro for lunch at the restaurant of your choice (we can provide recommendations) and an afternoon of shopping and visiting galleries, gift shops, and beach bars/restaurants before returning to St. George's with plenty of time to unwind and freshen up before dinner.
Water Sports – On-island Watersports are Always Complimentary at St. George's Caye Kayak
Take off right from our swimming beach and easily paddle the leeward side of the caye over to the mangroves and the ultra-calm "rivers" that separate sections of the island. Search out the great herons, frigate birds, and white egrets – maybe even spot some nests. Or get adventurous and paddle out toward the reef, stopping for a dip in the warm water.
Stand-Up Paddle Boards
Try this fun and popular new sport in the calm waters on the lagoon side of the island, a great way to check out the wildlife both above and below the water. We recently added stand-up paddleboards to our water sports equipment after guest requests - and it's been a fun addition. Paddleboards are a great workout too!
Swimming in Paradise
Guests at St. George's Caye Resort enjoy three excellent swimming options. Our sparkling pool is maintained with the perfect water balance to be ready when you are – 24/7. The water is slightly saline which means it stays clean and requires much less chlorine than traditional pools. Swim laps, start a water polo match, or just cool off in the tropical sun.
Our lagoon-facing swimming beach allows you to walk right into the sea from your lounge chair. You can swim out into the protected bay of our crescent-shaped island, or paddle around the docks looking for sea life. Dolphins frequent this side of the island and you may even meet a Manatee. Take our complimentary snorkel gear and you will be sure to view juvenile reef fish. Our sands are comprised of finely broken coral making for a solid surface of beautiful white.
On our dock on the windward side of the caye you will find chairs, chaise lounges, and hammocks under a thatch-roof palapa and out in the sun. When you get hot, you can walk a few steps to the end of the dock, jump in for a swim in the ocean, then come up the ladder back onto the dock (preferable with a cold beverage waiting for you).
Sail the Caribbean
We offer complimentary access to Hobie Cat sailboats for your pleasure. Experienced sailors enjoy visiting the small nearby cayes, even taking lunch (and a few beers) for the journey. The larger boat will accommodate four people, so you can go with friends, or make new friends. It's easy to learn to sail these boats, so just ask if you would like to try it – our captains will be happy to "teach you the ropes" (no charge) and you will be sailing in no time!
Snorkeling
Snorkeling right off the beach is fun and free, including complimentary use of our gear. There are always fish to find around the docks and you can stay close to shore. But for the ultimate snorkeling experience, you can schedule a half-day trip with our professional guides over the coral reef system just minutes from St. George's. You will find sea life on your own, and our guides will point out varieties of reef fish, rays, eels, conch, and possibly manatees. This is great fun with a group, or just for two! Snorkelers can also sign up to join a full-day guided trip to the Blue Hole and Lighthouse Reef. This is a diver's mecca but is also a tropical dream trip for snorkelers.
No matter what you find to keep you moving, Belize is the perfect spot to create memories to last a lifetime and experience the best of the world!

We hope you can come away for pampering in paradise and a perspective that is as refreshing as our clear blue waters!
INQUIRE FOR YOUR CUSTOM VACATION
St. George's Caye Resort is found 7-miles from main-land Belize City. Transfers are made by boat, and once you have landed at BZE International Airport, your valet will have you on the island's sandy shores in under 30 minutes. Offering an array of adventure, romance, relaxation, and SCUBA excursions, this resort is acclaimed for pristine reefs, seclusion, and the ability to do as much or as little as one wishes.
Email for more information at This email address is being protected from spambots. You need JavaScript enabled to view it. or call our friendly US-based reservation line at +1-507-380-9344 or toll free at 1-800-814-8493. See all of the beautiful information at www.belizeislandparadise.com.

St. George's Caye belize island paradise Belize island resort Belize Honeymoon SCUBA Diving
Stay Informed
When you subscribe to the blog, we will send you an e-mail when there are new updates on the site so you wouldn't miss them.