3 minutes reading time
(582 words)
Thirsty Thursday - Island Style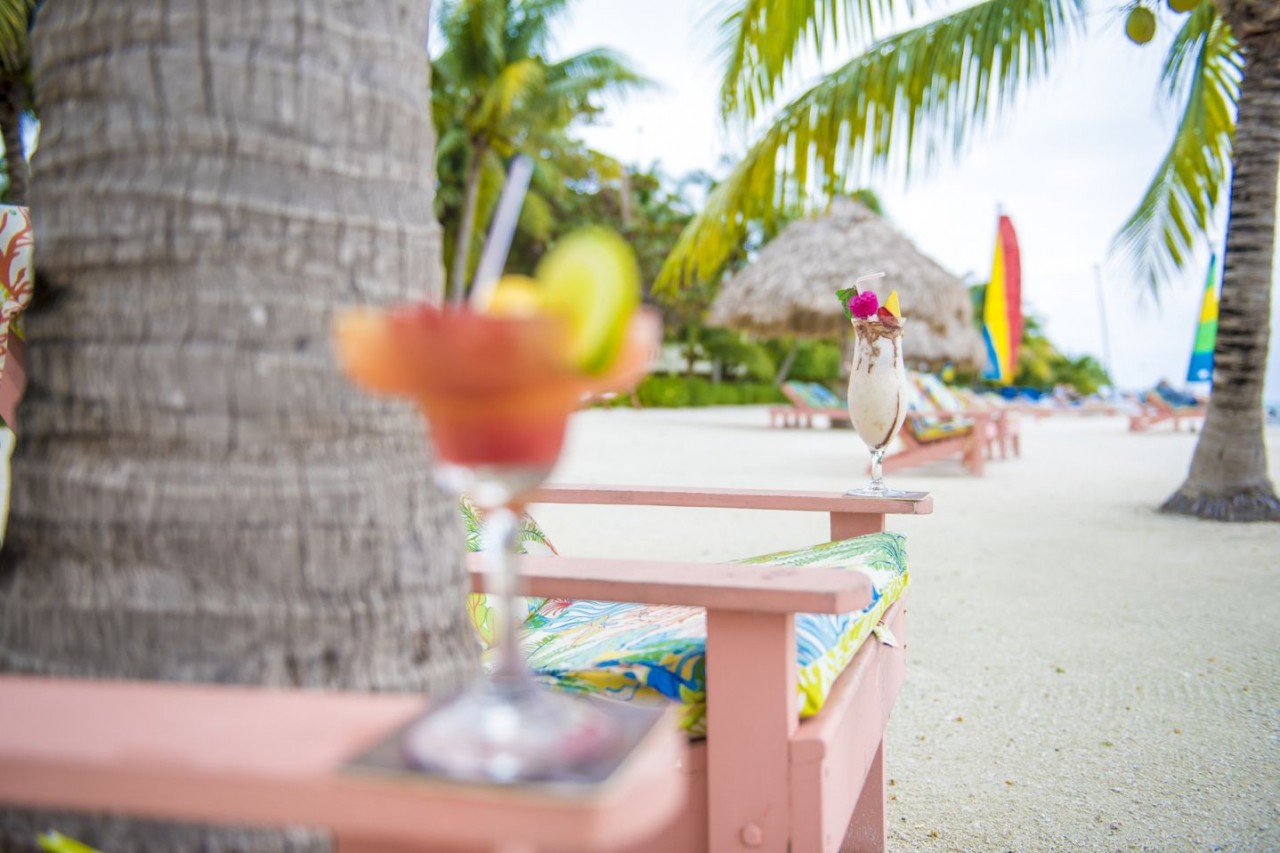 Happy Thirsty Thursday from the island! It's a beautiful day to spend an afternoon taking in the Caribbean views and ocean breezes while lying in one of our hammocks with a cocktail or ice cold, freshly squeezed juice in hand. No matter your beverage of choice, we have a little something for everyone!
At St. Georges, supporting the local economy is important to us. Fresh fish, fruits, vegetables, and juices are sourced locally and are served with pride at every meal! Our servers will even climb a tree to make your tropical island cocktail - it doesn't get fresher than that!
We serve the local beer of choice, Belikin, which is brewed "by Belizeans, for Belizeans." Varieties range from their flagship continental lager, Belikin, which is a special blend of Canadian pilsner malt and German hops, to their unique Caribbean brew, the Belikin Stout. The stout has a subtle blend of coffee, caramel, and chocolate flavors- it's a must-try in our book!
Looking for something a little more fruity? We've got you covered! Our world-class servers will treat you to a variety of fruity umbrella drinks such as the Coco Loco, Belize Rum Freeze, or the Dirty Banana (and many more!).
Want to make your own "Dirty Banana" at home? Try this recipe to bring you back to the island any time you please!
Dirty Banana
1/4 to 1/2 cup ice cubes
1 1/2 ounces (1 standard shot) white rum
3/4 ounce (1/2 shot) Kahlua (or other coffee-flavored liqueur)
3/4 ounce (1/2 shot) banana-flavored liqueur
1 ounce (2 tablespoons) light cream
1 ounce (2 tablespoons) whole milk
1 ripe banana
Garnish: unpeeled banana slice
Directions
Gather the ingredients. Put 1/4 cup to 1/2 cup of ice in the blender container. Add the remaining ingredients except for the garnish, cover, and blend until smooth, increasing the speed as necessary to thoroughly pulverize the ice. Pour the drink into a small hurricane glass, martini glass, or other cocktail glass. Cut a slit halfway through a banana wheel and hang it on the rim of the glass.
Serve and enjoy!
Upon your next visit to St. George's Caye Resort, stop by the Sand Bar Lounge inside the main lodge for an afternoon snack and check out our selection of wines, beer, cocktails, sodas, and juices. You can relax in a cushioned chair or ocean-facing swing and enjoy books, games, good conversation, ocean views, and complimentary wi-fi.
St. George's Caye Resort is found 7-miles from main-land Belize City. Complimentary transfers are made by boat and once you have landed at BZE International Airport, your valet will have you on the island in just about 30 minutes. Offering an array of adventure, romance, relaxation and SCUBA excursions, this resort is acclaimed for pristine reefs, seclusion and the ability to do as much or as little as one wishes.
Email for more information at This email address is being protected from spambots. You need JavaScript enabled to view it. or call our friendly US based reservation line at +1-507-380-9344 or toll free at 1-800-814-8493. See all of the beautiful information at www.belizeislandparadise.com
Stay Informed
When you subscribe to the blog, we will send you an e-mail when there are new updates on the site so you wouldn't miss them.