5 minutes reading time
(965 words)
Say Yes to Self Care - Island Style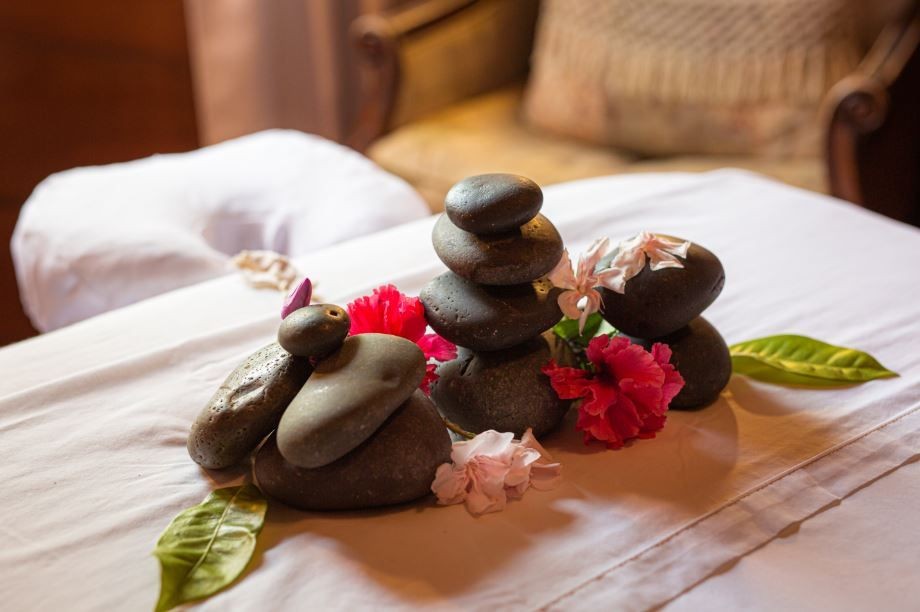 Summer is winding down for many countries in the Northern Hemisphere. Kids are heading back to school, and the smell of fall is in the air. In the last two years, it has become even more important to balance physical and mental wellbeing. The season's change is a perfect time to start new routines, plan ahead, and get back to your self-pampering routines.
We thought it would be helpful to have a bit of a list for "self-care" island style.
Seaside Yoga - Yoga offers physical and mental health benefits for people of all ages. And, if you're going through an illness, recovering from surgery, or living with a chronic condition, yoga

can become an integral part of your treatment and potentially hasten healing. The health benefits are further enhanced while performing your practice seaside. With sweeping views from either the dock or the beach, your senses are sure to be filled with joy, peace, and endorphins while moving through your meditations.
Reading Outdoors -

Reading books

benefits both your

physical

and

mental health

, and those benefits can last a lifetime. They begin in early childhood and continue through the senior years. Reading allows your mind to drift and let the story take you away. Add this to reading in a lazy hammock with the aroma of sea salt and fresh fruit in the air, and what better way to unwind and truly immerse yourself in peace.
Coral Reef Snorkeling – Exercise, including snorkeling, can help relieve stress and anxiety, according to the Mayo Clinic. The controlled mouth breathing required of snorkelers is similar to many of the meditative breathing techniques that seek to relax and calm the body. Snorkeling regularly may help you feel calmer and at ease through simple relaxation. Snorkeling itself improves overall strength and endurance, reduces stress, and burns about 300 calories an hour. Not to mention, Snorkeling allows beachgoers to experience the wonders of the ocean and encounter vibrant sea life that transforms the ocean floor into what seems like another planet. Observing sea life in its natural habitat can be very relaxing to snorkelers and help relieve sufferers of anxiety and attention deficit disorders. Guests rave about the world-class snorkeling at St. George's Caye Resort - Belize

Complimentary Water Sports - Water sports are very popular not only because of the adrenaline rush, while getting tanned and toned, but also because of several health benefits. Through this quiet experience, you breathe in fresh air and be one with nature. Watersports lifts your spirit up, sets you in a good mood, and keeps you refreshingly energized! And if you are a more health-conscious person, you will be glad to know of the following added health benefits that water sports offer.
Spa and Relaxation Treatments - "Going to a spa is a way of getting taken care of that is long-lasting and both physical and mental -- and we can carry that feeling of being cared for with us for a period of time. Very often that can help us cope better with stress," says NYU professor of psychiatry Virginia Sadock, MD. Moreover, she says, most spa treatments involve being touched, a key element in helping us relax and feel better. Our spa treatments range from deep tissue to hot stone… even head-to-toe treatments to delight and relax the senses.
Fresh Views – Air – Sunshine - Sunlight and darkness trigger the release of hormones in your brain. Exposure to sunlight is thought to increase the brain's release of a hormone called serotonin. Serotonin is associated with boosting mood and helping a person feel calm and focused. At night, darker lighting triggers the brain to make another hormone called melatonin. This hormone is responsible for helping you sleep. Additionally, researchers have noted a link between exposure to the sun and lower blood pressure levels, with reduced death rates from cardiovascular issues. They suggest that exposure to sunlight triggers the skin to release stores of nitrogen oxides, which cause arteries to dilate, lowering blood pressure, and may reduce the impact of metabolic syndrome.
Last, but certainly not least - Total Disconnection - A simple and direct way to disconnect is the "Resolve to take one full day off each week during which you do not touch your computer, check your Smartphone, or make any attempt to keep in touch with the world technology.", according to https://healthylivingdaily.net/.
This sounds simple enough, but what are the real health benefits of casual unplugging? Here are just a few:
Promotes an open-minded attitude - Improve social interaction - Strengthens the immune system - Reduces stress levels
We hope you take the time for yourself this coming year and let us pamper you in paradise for the ULTIMATE in self-care!
______________________
St. George's Caye Resort is located 7 miles by boat transfer from the Belize City marina. We are taking reservations for summer and fall, with our worry-free travel policies. We are filling fast so book soon! We look forward to seeing you in the sun!
Questions? Contact us today +1- 507.380.9344 or Toll Free 1-800-813-8498
Email our friendly reservations specialist at This email address is being protected from spambots. You need JavaScript enabled to view it.
Or Click Here to Reserve Online
What will you check off of your bucket list during your trip to St. George's Caye Resort?
Stay Informed
When you subscribe to the blog, we will send you an e-mail when there are new updates on the site so you wouldn't miss them.