4 minutes reading time
(800 words)
Is there a difference between an overwater cabana and an over-the-water bungalow?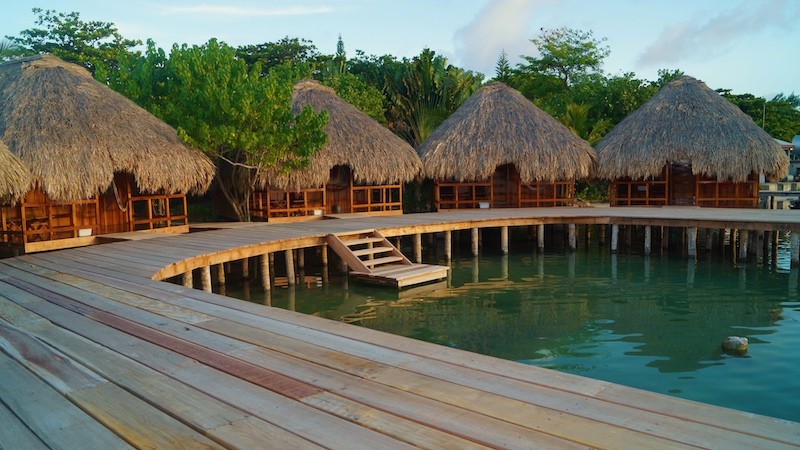 You're dreaming about a tropical vacation and you soon find yourself spending hours searching the internet for the perfect little room on the beach. As you explore exotic destinations near and far (Bali! Belize! Hawaii!), drooling over the tropical rooms, some of them over the water, you will no doubt come across a wide array of descriptions, features, and amenities. You will notice that rooms may be called bungalows, cabanas, casitas, huts, etc. – with descriptions such as "private thatch cabana," "thatch casita," "romantic beach bungalow," "over water casita," "overwater bungalow," "private cabana over the water," "rustic beachfront cabana," and more.
If you are like us, you start wondering, "What is the difference between a cabana and a bungalow? Why all these different terms?" I just want a quiet, peaceful, relaxing setting on the beach, with a clean room by the water where I can sip my drink, get five-star service, and enjoy some SCUBA diving and snorkeling...
CABANA vs. BUNGALOW vs. CASITA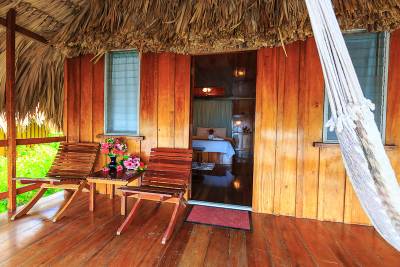 Of course you can go to your dictionary, or ask Siri – and you'll get the basic definition for "bungalow" and "cabana" and "casita." But the fact is there is no one definition for these rooms and no one enforcing rules on what resorts call their rooms! Even identically appointed rooms at two different resorts can be called a cabana by one place, and called bungalow by another.
But the good news is: you don't need to worry about it!
It's not what the room is called that matters, but whether the features and the amenities fit what you want:
Do you want to stay in a regular hotel room, or something exotic and different?
Do you need air conditioning? TV? Room service? What other amenities are important?
Do you want to be on the beach, or are you looking for the "over the water" experience?
Do you want to be on a private island, or in a touristy area with beach bars?
As you explore your options (here is a great site: http://www.overwaterbungalows.net), look at the pictures, read room descriptions thoroughly, and it can even a good idea to contact the resort and ask them to confirm that the pictures on their website are current and accurately portray the condition of the rooms now, especially if you will be visiting a remote location that is less regulated.
ROOM AMENITIES AT ST. GEORGE'S CAYE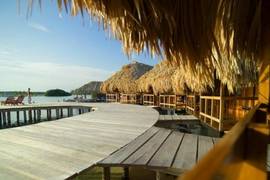 If this is the first time you've traveled outside of the US, be prepared for the rooms to be a little different! The style, charm, and local aspects of the room will be a welcome change from the more sterile environment in which most North Americans live.
For example, the 12 cabanas (or bungalows, or casitas!) at St. George's Caye Resort are far more than a place to sleep—each private cabana is like a work of art built by local staff using beautiful native hardwoods and featuring authentic thatch roofs, handmade curtains, and local artwork. Your bungalow also has a covered front porch (with handmade hammock!) where your coffee and fresh squeezed juice will be delivered each morning at sunrise.
RUSTIC BEACH ELEGANCE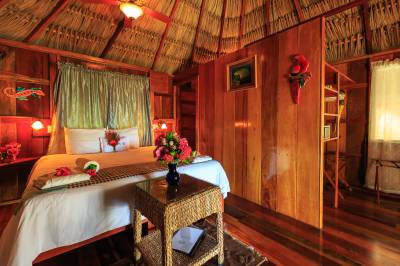 We describe our cabanas as "rustic elegance" because they combine high-end amenities with a beach-hut experience. The en suite bathroom has Turkish towels, bathrobes, and a heated shower that is small and efficient (we filter all of our own water on the island), and the air conditioning works well combined with ceiling and floor fans to keep you cool, but not like it would in a standard hotel room (our rooms do not have insulation or drywall). The rooms do not have televisions or phones, and internet is only found in the main lodge/bar (time to unplug!). For most people this is exactly what they want—a true tropical experience with thatch ambience and ocean breezes.
Check out our photo gallery to see more of our cabanas.
EASY TRAVEL TO AN EXOTIC LOCATION
Belize offers the shortest travel time to over-water bungalows from the US (just over 2 hours from Texas airports!) and for a much lower price tag than many of the resorts in Tahiti, Bora Bora, and the South Pacific.
So whether you are planning a romantic honeymoon, an anniversary trip, a SCUBA diving adventure, a family reunion or holiday, or just getting away with friends, if you want a thatch bungalow at a private island resort in Belize, This email address is being protected from spambots. You need JavaScript enabled to view it.! (And remember, we include your airport transfers at no additional charge making travel even quicker and easier!)
Stay Informed
When you subscribe to the blog, we will send you an e-mail when there are new updates on the site so you wouldn't miss them.